Carlo Zecchi (1903-1984) was a Roman pianist whose remarkable art is evident on the few solo recordings he made as a pianist before abandoning his career to conduct and play 'easier' works such as the piano's part in cello sonatas by Beethoven, Brahms, Rachmaninoff, and others. He had studied with Busoni and Schnabel in Berlin.
Once after he enjoyed the pizza made in a small locale in Vico Equense on the Amalfi coast, the proprietor sighed about how no one cared about his artistry. Zecchi suggested that he shape the pies into long 10″ wide strips and sell it "by the meter" (c. three feet). Pizza al metro became an instant sensation and Zecchi the inventor was anointed as their patron saint.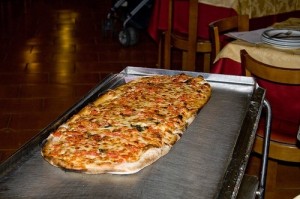 The full story is recounted here (in Italian):
Origins of Pizza al metro (pizza by the meter)
He could also be considered a patron saint for Scarlatti through an irresistible rhythm, color, and phrasing: Sonata in G, L. 103 – recorded in the 1930s.
An extensive website in Italian contains more information on his life:
Just before the pianist and conductor Carlo Zecchi was about to fly off to Japan for a performance of Schubert's Trout Quintet, to conduct orchestral concerts and give master classes, he made time for an interview and obliged by speaking in English. He recounts the night when Mussolini's aide sent orders for Zecchi to appear and play for the visiting Hitler. Zecchi talks at length about his studies with the moribund Ferruccio Busoni and his coming to a deep understanding of music through his mentor Artur Schnabel.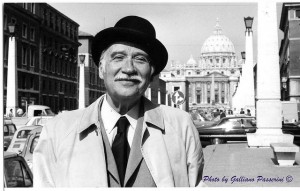 Interview with Carlo Zecchi at his home on via Pacini, Roma, August 10, 1981 by Allan Evans.
The Danish filmmaker Ole Askman was there at the last minute to prepare a documentary on the pianist, who died soon after.