(photo: Don Schlitten. St. Albans, New York, c. 1961).
liner notes for World Arbiter CD 2005, no longer in print after a license was transferred
The Sun of Our Lives by Allan Evans
The first name usually encountered when exploring the Country Blues is Robert Johnson, a tragic figure who suddenly emerged, surpassed his elder peers in the Mississippi Delta (especially Son House, and those whose records he imitated) only to be murdered soon after. Endowed with a fluent virtuosity, Johnson sounds aloof and constrained by the blues, more suited to develop some urban blues-jazz form which he failed to realize as death came before artistic maturity or experience brought him outside his community. Myths such as having sold his soul to the Devil for musical prowess are perpetuated by fans, belittling his accomplishments, stemming more from his admirers' limited understanding than Johnson's development amidst social conditions which led to a tragic end. He has been lionized by Eric Clapton, the Rolling Stones and other influential forces in Rock, enthroned as the archetypal rural bluesman, a gifted mysterious being linked to cryptic forces in an art of profound sorrow and catharsis.
Blues records proliferated from 1926 until the Second World War; regional styles and genres were preserved, capturing many artists in their prime, such as Charley Patton, Son House, Mississippi John Hurt, Skip James, Blind Willie McTell, Blind Blake, Blind Lemon Jefferson, Leadbelly (the closest to Davis in scope), Big Bill Broonzy, and others such as Willie Walker, Robert Wilkins, William Harris, Tommy Johnson, Bo Carter, and Peg Leg Howell who comprise a secondary tier as their art is bound to a time and place, yet of significance. All belonging to this microcosm, from Robert Johnson to the gospel singer Blind Willie Johnson, offer a specific instrumental style and regional identity, a confine wherein masterpieces arose, inimitably sung. While their role as entertainers attracted entrepeneurs, many possessed a musicality transcending popular appeal, leaving one to wonder over what remained overlooked by the recording industry (artists discovered and rediscovered years later such as John Hurt, Mance Lipscomb, and Fred McDowell left a comprehensive musical legacy).
Their range suddenly alters when encountering Reverend Gary Davis (1896-1972), whose art comprised Medicine Show tunes, white ballads, military marches, country instrumentals, the emergent ragtime piano, a virtuosic Piedmont (Carolina) blues guitar style, old church hymns, revival meeting and Gospel songs, popular tunes, original compositions based on all the above, an archaic harmonica style rarely heard elsewhere, proficiency on the banjo, rudimentary ability to play hymns on the piano, understanding of chord grammar and elements of music theory, and a knack for evoking those he admired, such as Blind Blake. Davis was one of the few to explore minor keys, creating works of deep pathos such as Death Don't Have No Mercy, Children of Zion, and I Heard the Angels Singing. He once described Children of Zion as dating back hundreds of years yet I Belong to the Band is in an 1830's church songbook, a rather ancient member within an ever-changing oral tradition.
Beyond this social panorama comes the Word: Davis' imagery evoked chiaroscuro visions: "I rapped and I rapped at the mercy of the door, till my head got wet with the midnight dew." In contrast, most traditional blues artists shared and recycled standard lyrics, arbitrarily using them as filler­ "the blue light was my blues, the red light was my mind"- sung by Blind Lemon Jefferson, Robert Johnson, and many others, pleasing the public yet straying from a specific narrative. Davis maintained a text's integrity in the manner of a chronicler (griot), or created his own. His imagery is cloaked in metaphysics, a reality veering to the divine perspective ("Tell me, which a way you're travelling? Amen." "One morning soon, ­ I heard the angels singing.") as Davis presents a historic-sonic portrait of a new continent's spiritual breath into untapped spheres, its archetypes rapidly arising and evaporating. Later pilgrimages for elemental experience amidst increasing standardization surfaced in Kerouac's On the Road and the texts of Bob Dylan. Davis overlaps tenses of time within references clear to him yet archaic to us (or to him, in older material), stepping closer to vanished sources of legends.
Davis' musical world parallels the richness of the nature, social milieus, characters and flow inhabiting Mark Twain, a sonic Huckleberry Finn, evoking deception, seduction, gamblers, dance halls, bordellos, cocaine, sexual repartee masked in double entendres, bucolic country pastimes, evangelism, self-realization, agonizing over one's fate, biblical themes, yearning for the divine presence, life's evanescence, timely events recast as morality plays, and so much more. His repertoire of over 300 compositions remains a marvel and historic repository, supported by a high musical level imparted to every work he performed, bearing an imprimatur of uniqueness and identity recreated on each occasion, a living expression outside any limits of time and style. Through uncanny rhythmic precision, sensitivity to nuance, an articulated tone both commanding and sensual, his voice roaring as an instrument, one sensed that each work was a fragment drawn from a larger constellation which he alone had access to and kindly offered. Most bluesmen would maintain an accompaniment interspersed with solo breaks or devise instrumentals based on patterns, whereas in Davis we encounter a complete musician, a composer aware of all musical details, exploring new possibilities. Davis has not been acclaimed as Robert Johnson, yet he alone brought many traditions to culmination through an artistry which surpassed nearly all others during his lifetime. Davis' legacy is furthered in the guitar playing of his pupils Blind Boy Fuller, Brownie McGhee, Larry Johnson, John Cohen, Bob Weir, the very gifted Rory Block, Stefan Grossman, David Bromberg, Dave van Ronk, Woody Mann, Roy Bookbinder, the authors Alex Shoumatoff and John Nichols, and his influence on Bob Dylan, Peter, Paul & Mary, the Grateful Dead, and Jorma Kaukonen (Hot Tuna).
The grand blues, ragtime, and gospel traditions have drifted into every style imaginable, its protagonists nearly all gone (except for Gospel, which thrives due to its social context). In evaluating these American art forms, one may regard Davis as their most profound, accomplished and comprehensive master.
In remembrance of Rev. Davis' blindness, we are donating a portion of the profits to the Lighthouse, a New York charity assisting the blind, publishing Braille books and spoken recordings of literature: we urge listeners to contribute likewise.
1. Fast Blues in A: A solo never heard before from Davis, based on 'Mountain Jack', imitating yells and calls in the high register. An example of his musical community, lower bass runs comment as the main character (the soprano) carries most of the conversation with occasional asides from a middle voice.
2. Slow Blues in E: Davis rarely played blues in the key of E. Here are long sustained phrases starting at times in the high voice, descending into the bass, which receives a lively bass solo. Some of his bent high notes recall Lonnie Johnson. Based on traditional blues harmonies, the interplay between registers touching on early Jazz.
3. West Coast Blues: Blind Blake's classic composition: whereas Blake picked with three fingers, Davis used two, resulting in a simplification and slower tempo. He actively rolls the bass syncopations with his thumb to capture Blake's piano-style. Davis strikes the final A flat chord without Blake's open A string as its bass, yet uses similar dissonance in his own compositions in the key of F.
4. Rag in A minor: A unique work, based on some forgotten air or an improvisation in A minor, reminiscent of his Italian Rag.
5. Quick Step: A simple dance or march-like gospel hymn becomes a rhythmic tour de force, its tension created by the highest register pitted against a shuffling bass. There are no other known versions of Davis playing a work sounding like a relic from Mark Twain's world.
6. Horse Thief Blues: Davis leisurely offers a bucolic portrait of a petty country criminal; another piece with an odd bent in F was his Devil's Dream. Davis spices it with dissonant bass notes, a brief bass solo and expanded lyrical passages on the dominant chord. Note how he unpredictably alters the bar lengths of the F chord sections, singing out the melody in a soft, understated way. Again this is the only known version of the work.
7. Candy Man: A brisk Candy Man (in C), sung in mocking falsetto with Tiny Robinson. (A similar example exists of Davis sqeaking out Cocaine). The text is enlivened with "run get the pitcher, get the baby some beer." Far from a blues piece, its purling flow is redolent of white country music which Davis ornaments with counter-rhythms, embellishments and melodic flourishes. Two right-hand fingers shape three parts: the thumb being responsible for the bass and middle voices, the index articulating the middle voice and high melodic notes. Davis also played it as a duet, having a student apply a capo, transposing it to F as Davis would interweave bass and soprano lines above a steady accompaniment, similar to his barely audible flourishes on several of Blind Boy Fuller's 1935 recordings (Rag Mama Rag, etc.)
8. cigarette break . . . (Born and raised in Carolina tobacco country, Davis was a cigar aficionado. Most of his solo playing had a silent partner, an everpresent dangling cigar. Davis and his guitar exhort Tiny Robinson, his muse who organzied these informal sessions, for a smoke.)
9. Hills and Valleys: Davis would improvise at home and during lessons, favoring the key of C. There are touches of the early Big Bill Broonzy, Blind Blake, Lonnie Johnson and possibly others who never recorded. A slow tempo supports runs which ignore bar lines while landing on the downbeat just in time, similar to an Indian tabla solo.
10. Seven Sisters: An enigmatic work in the key of A, wavering from major and minor through its characteristic bent notes. Seven Sisters vanished from his repertoire in the early 1960s and by 1971 he no longer recalled it. Irregular phrases and a bass which interjects bent-note melodies make it demanding, as an inner logic guides its melodic shape, possibly referring to a source lost to us or obscured by time.
11. Crucifixion: Here is one of Davis' musical triumphs: a vocal line and guitar part dovetailing to unite as a two-part-melody which cannot be reduced to a single part, creating a musical perspective, an innovation akin to Giotto's frescoes, the volume and colors of the early Siennese masters (Simone Martini and the Lorenzettis), whose religious imagery is coupled with elements from daily life and the emotions. In recounting the Passion, Davis couples a historic narrative with the personal (Pontius Pilate requesting a wash basin), similar to the facial expressions and physical gestures in Giotto's Padua frescoes revealing grief and angst.
A narrative ballad in the key of G, Davis weaves his complex accompaniment beneath a 'talking blues' style. Using both first person and narrator, the text relates the events preceeding the Last Supper yet ends before the Entombment and Resurrection. Why did he abridge it? Davis' duality as creator and preserver heightens the aura surrounding his epic: Did he adapt someone else's work or was it his own inspiration? One regrets not approaching him as a composer to pose such questions: now it's too late to ever know.
12. I Decided to Go Down: The music Davis played in F often became spicy, modal. The left thumb was active on the low E string to fret up to G while four fingers employed wide stretches and bending to form arabesques which differed from his sung melody. An occasional major/minor ambiguity unfolds amidst harsh dissonances (melodic A flat supported by A natural on the open string!). Unlike many blues and gospel guitarists who formed patterns for the two or three keys they played in, Davis achieved a notable variety of melody and ornaments within A minor and major, C major, D major, E major and minor, F, and G: his pieces in F (Blow Gabriel, The Angel's Message to Me, Devil's Dream, etc.) dwell in a craggy harmonic landscape.
13. Sun Is Going Down (You Better Get Right): A work in E major. Davis layers asymmetries between the guitar's and song's phrasing, its accompaniment veering downwards from the highest register towards dancing bass rhythms. Two recordings exist: a live performance (on Shanachie) in which Davis simplifies the rhythms as he tended to while playing in public. The version on his final session (Biograph, 1971, on a Bozo 12 string guitar) is played in a slow tempo with inaccuracies due to age, yet allows close-ups of details. An unpublished take (for Prestige) in the early 1960s remains in Fantasy's vaults, hopefully to be released. The version heard here, recorded at home by Tiny Robinson, finds Davis at his best, fully employing his rhythmic prowess and projecting it as a heralding call by an Old Testament prophet to place one's life and priorities in order. He once explained the title as "the sun of our life, not the meridian sun that shines by day."
14. My Heart is Fixed: An extended performance of a song recorded only once, c. 1957. Its outward simplicity masks a most difficult and subtle playing, as the sacred pieces in C have soft tones clinging to the melody, without which a skeletal approximation would result.
15. Hold to God's Unchanging Hand: A rare document of a church service at which Rev. Davis was guest minister. The program began with a member of the congregation singing from the piano, exhorting the others to follow.
16. Davis speaks: Davis offers a greeting and prayer to sanctify the proceedings.
17. My Home is on High: Davis announces a song which came to him (usually in his dreams), beginning in the key as the previous song, demonstrating his perfect pitch and practicality by remaining in the same key the pianist had played in.
18. Sermon: As the full sermon spanned an hour, we offer a segment in which Davis dwelled on the tale of Jonah and themes stated earlier and repeated later. One congregant audibly reacts to all (the pianist?) while a nearby Sister ups the spiritual voltage by singing softly, spurring Davis to a plateau of ecstatic song-like preaching (often in the same key as her humming).
Were his sermons prepared? A hazy shard of memory recalls his wife Annie mentioning after one Friday lesson: "B. [Brother] Davis has to get his Sunday sermon ready." Luckily, Tiny Robinson confirms: "Sometimes he did, sometimes he didn't."
19. Coco Blues: After Davis' impassioned sermon, we conclude this cross-section of his art with his sublime transformation of a trite popular song into an instrumental masterpiece, as profoundly stated as any of his Gospel songs. In Cocaine (or Coco), Davis anchored his thumb on the low E string's third fret (G) as a pedal point. It is worthwhile to try his fingering and shape the melody with four fingers.
Rev. Gary Davis, A Memoir
Long ago in 1971, radio creatively opened new musical worlds and expanded one's cultural realm. A gulf existed between stations dominated by playlists and listener-supported or college networks. One New York station, WABC-FM (now WPLJ) featured a Saturday morning show hosted by either Howard Smith or Alex Bennett, who often invited John Lennon to come by and play records he had brought, passing the hours in talk, taking calls from listeners. Other stations aired authentic global sounds; court gamelan of Java, Balinese Monkey Chant, African and Bulgarian rhythms. Lengthy musical experiences, such as round-the clock week-long broadcasts of the recently deceased John Coltrane and Albert Ayler affirmed radio's cultural potential, astronomically remote from the constraints of format and directives issued by the powers which now shackle radio, even public radio, into a medium based on advertising, rife with puerile 'human interest' items which must first be justified by their ratings system to fill in a gulf created by avoiding any music of profundity or substance.
WKCR (Columbia University's radio station) had a Saturday morning blues program on which the late Nick Perls, founder of Yazoo Records and collector of 78rpm blues discs, often arrived with rarities, lost artists whose discs existed in quantities of one or two known copies. Perls' refined taste guided one not only through individual and regional styles, but provided a context. His reissues of blues from the 1920s and 1930s were well-transferred and annotated, graphically compelling (commissioning R. Crumb for covers was another masterly stroke), a model for us all, as the Jazz and Classical fields failed to reach Perls' level. Perls had restored and produced an LP with all of Rev. Gary Davis' first recordings from 1935 and on a program in March 1971, WKCR aired his disc. Turning fifteen at the time, I was taken aback by his playing and haunting voice. The announcer mentioned that the Reverend would be giving a concert at Manhattan's 23rd Street YMCA the following week; regrettably it wasn't possible to attend. Their next program included Davis performing Buck Dance and Twelve Sticks (the latter on 12-string guitar, both recorded at the 1966 Newport Folk Festival, published by Vanguard), revealing an instrumental and musical mastery venturing ever further. The announcer also noted that some listeners who attended the 'Y' concert spoke of it as having been his farewell performance.
A listing soon appeared in the Village Voice: Davis would play at Brooklyn College on March 19th. A long subway trek to the edge of Flatbush ended at a sizeable campus cafeteria revamped as a coffee house. Davis rose from a lunch table and was led onto the makeshift stage, carrying a Bozo twelve-string guitar. Nearby 'experts' noted his total shunning of the blues as he had become more fervently religious, curiously overlooking the ragtime solos and risque songs he was playing before them, as fans can be more concerned with their ideals than with observing reality. His playing was compromised by the space, lessening the intimacy, blurring the words. Davis was nearly seventy-five and seemed fit yet subdued. He played:
I Heard the Angels Singing
Samson and Delilah
She's Just Funny That Way
She Wouldn't Say Quit
Maple Leaf Rag (with vocal flourishes)
At intermission, Davis returned to his table, mobbed by well-wishers and the curious. Someone asked where he lived. Davis gave his address ­ Jamaica, Queens, an hour by bus from where I then lived. Did he give lessons? "Yes. . . I charge only five dollars a lesson. A cow can't give more milk than what it's worth." He offered his phone number (AX1-7609). The lights dimmed and all returned to their seats. I approached his student and chauffeur Larry Breezer, asking if I might lead the Reverend on stage for the second half. Taking his arm, I asked if he would play "I Belong to the Band", among the most moving of his 1935 recordings. The second half of the evening consisted of:
Death Don't Have No Mercy
Pure Religion
Oh Glory How Happy I Am
Who's Gonna Reign Over Heaven (on a 6-string Gibson)
I Belong to the Band (Gibson)
Crucifixion of Christ (Gibson)
Heaven Keeps Raining (on harmonica)
The following evening promised another epiphany: Bukka White was appearing at the Village Gaslight. White used open tunings, playing with a 'bottleneck', a steel ring on his left-hand pinky. (Davis had but one song, Whistlin' Blues in this genre, which he condescended to as 'knife-guitar'). White's right hand evoked African polyrhythmic dance and drumming, whereas Davis's articulated three-part style derived from kora-playing griots, the singing historians at West African courts.
White sat alone at a stage-side table, projecting a sadness unrelieved by his pastel green shirt, a chain and amulet resting on his chest. He patiently answered inquiries about his songs, where he lived (Memphis), if he taught ("Come by and visit," he smiled, jotting his address on a scrap of paper.) A few listeners arrived along with Reverend Davis and Larry Breezer accompanied by two beautiful women in their 20s, who sat at the table. When White retreated backstage after greeting them, Davis engaged in heavy flirting with one of the ladies: as it happened on other occasions, he had an infallible ability to detect the most beautiful and sensual woman in any group.
White's playing had grown uniform since his ebullient 1940 recordings, the guitar's role a repetitive accompaniment in an open-E tuning. Aberdeen, Mississippi (again my request) found him slapping the neck a-la Hendrix in a train rhythm, this older work overshadowing his recent songs, an example of how difficult it is to survive and surpass one's early triumphs.
Disbelief in having heard the Reverend, leading him on stage and witnessing him socially on two successive days only deepened the desire to learn his music. One weekday morning, a cloudless sky brought despair in having to face another banal school day. I had turned sixteen and realized wonders lay about. Six dollars had been saved up. . .
I grabbed the phone and dialed Rev. Davis's number. A high-pitched voice asked in rapid fire who I was and what did I want. Was the Reverend free to give a lesson today? "Yes he is, come on over, we'll be out at the barber until 1 p.m. so you can come on by then, do you know how to get here?, you just take any bus to the Jamaica terminal and change for the number 42 and make sure you ask the driver to let you off on Brinckerhoff Avenue and then just walk down the block and turn the corner right and you'll see our house, we're at 109-42 174th Street, we'll see you then, good-bye."
It was thrilling to be the only truant on the St. Albans bus, riding off below the Jamaica hills on a plain stretching into Long Island. Most of the wooden multi-story homes dated from 50 years earlier; newer one-story attached brick houses popped up between them, their quiet yards sheltering vintage cars. Nearby, a corner candy store languished. The neighborhood was sleepy, with everyone at work or indoors washing up after lunch, doing chores, their children still in school, lithe willow branches gently brushing their shadows over sidewalks and driveways. A white Ford sedan was parked in front. Mrs. Annie Davis opened the door: "You must be the boy who called earlier. What did you say your name was? Allin? Here's the Reverend." Right of the door sat an old overstuffed armchair, a high footstool, their spinet piano nearby opposite a couch. Rev. Davis was embraced by the chair's soft padding, sitting without glasses. His eyes were overgrown with white tissue and seemed to be slightly pointed rather than smoothly oval. He had sight as a child but was given a medicine show cure which destroyed his vision. He offered a smooth youthful hand, like that of a seated stone pharaoh, asking what I wished to learn. Mrs. Davis opened a back closet filled with guitar cases, bringing out at his beckoning the "baby" Martin, a small-sized model he recently had tried in a Manhattan guitar shop and bought out of amusement with its size.
Seated on his footstool, I offered an approximation of Buck Dance, expecting only minor corrections. Davis broke into a warm grin: "Heh, heh…, now. . . watch my fingers. . . this is how it goes. . . and if you see something you don't understand. . . you just stop me and I'll explain it to you." He spoke slowly, spacing his words, often silent for awhile after a question, leading you to wonder if he had heard you, yet sometimes he responded at once. As he played my amazement grew. Not only were most of my chords wrong but I had overlooked a wealth of details which gave the piece its meaning. His nesting right hand seemed to brush or stroke against the strings, rarely moving. Two fingers picked as the others anchored his hand onto the body slightly below the sound hole. He wore a plastic thumb pick and one metal pick on his index finger ("it saves your fingertips", although his left hand calluses were quite developed, for he preferred thick strings which felt like phone cables.) "Why don't you use the middle finger too?" I wondered. "You don't need more than two." His left hand's shaping of the chords on the neck was sculpted elegance, a choreography of abstract poses dissolving through lithe movements into successive formations, moving hieroglyphics derived from a body language of economy and holding the instrument's neck at a 45 degree angle to his torso, allowing him to lift his left hand vertically to comfortably play such chords with. A horizontally-placed guitar would strain the wrist and tendons. Liner notes mentioned that his wrist had set at an odd angle after a youthful injury, allowing him to grasp his chords with ease. When I asked if the break in his youth changed his technique, he clarified: "No, I was playing the same way before it happened."
The blur of his right hand movements made it clear that the ear alone would have to decode his finger picking. It was the language of his left hand which opened up the music, its positions allowing for the melodic and neighboring notes to reveal themselves. Slowly, patiently, he explained the chords making up the work. "What is that you're doing after the F chord?" I asked. "You have an A-flat, followed by. . . an F-sharp diminished seven", which seemed like a tarantula stretching after a nap as the thumb scaled the neck. After a few tries I played the chords in rhythm. He begin again from the opening phrase, asking me to play along. The support of his rhythm added to the thrill of playing his own piece, not an approximation with some imposed repetitive beat but accurately, with each detail speaking for itself. The music became inwardly absorbed through playing together, his nuances imprinted onto your playing. As soon as a phrase became comfortable he sprung syncopated rhythmic traps to throw you off, his laughter implying that more learning always lay ahead.
In Buck Dance's middle section, he stopped me repeatedly: "No, that's not right!" he insisted. "I'm playing the exact notes as you." "Yes, the notes are right but you played that 'E' on the second string [at the fifth fret]. I take it on the open string." This detail indicated a sensitivity to timbre, allowing him to identify a position on the guitar by its color. (Incidentally, Davis tuned the low E string flat: those playing his music with a correct tuning will sound off.) What if similar listening would identify the chords on his recordings (for I wished to learn many works)? Then one may prepare them in advance by decoding the hand positions so that the following lesson might be spent on those details which seemed to defy capture, making it possible to cover a great deal of music in a short time. After finishing Buck Dance came Make Believe Stunt, Slow Drag, Devil's Dream and other songs. Four hours quickly passed and it seemed inconsiderate to further impose on his time. With a mock serious tone, he reminded that a substantial payment awaited him, then warmly bade me goodbye.
What made the experience profoundly moving was how a musician of his stature could patiently offer such kindness and encouragement to a near-beginner, leaving the impression that you were becoming his favorite pupil, a gentle way of introducing himself into your life as a musical mentor ready to assist you, inspiring you to do your utmost at all times, rewarding you with a smile when you played correctly along with the privilege of playing along with him, joining on his improvisatory flights as you now accompanied him.
A lesson was arranged immediately after returning from a music camp in late August (studying classical flute), given this time in the basement, which led to the small back yard where Mrs. Davis made barbecues. There were a few chairs about and a bed propped up with large pillows, used as a guest room for the friends, students, and religious pilgrims whose journeying led to the Davis home. Anxious to tell of my pathetic search for delights, I shyly poured out my woes to Davis as a naive kid to his experienced older brother. After an account of a failed romance with a curvaceous singer who knew she could do better and canoeing with two sisters onto a lake to sip appalling wine, I sighed, "So, Reverend, these are my big adventures at fifteen. What did you do when you were my age to have fun?" After a little laugh he paused, as he always did:
"One time there was a widower living nearby and us boys saw that every night he would get on his knees before the fireplace and pray to God for a wife who could be a mother to his children. So we went off and killed a sheep, you understand, and cut off its head and put it on a rope. Then when he was praying we climbed up on his roof and lowered that head down the chimney, so when he was there prayin' his heart out he saw that head in the fireplace, and he ran for a gun and started shooting up the house!!
"Then there was a time I was playing at a party, wearing a white suit when a fight broke out, people hittin' and stabbin' each other, using knives and pistols you understand, so I reached for a pie and hid up a chimney near by. When I got out, the fightin' was done, everybody was gone, my pie eaten, and my white suit black!"
Two young women arrived later and joined us downstairs, one a former pupil, the other an active folk singer. To greet his old student, Davis asked that his best guitar, Miss Gibson, be brought from the living room closet. The folk singer began to belt out some of Davis's songs. Davis' head gently rested on his left hand, the right ear seen by the singer while a left-hand finger stopped his other ear.
A few weeks later Rev. Davis suffered a stroke. When he was able to have visitors at home, I arrived with a friend, Mary, to be greeted at the door by a dour lady in her fifties wearing a gray hooded cassock, barefoot, carrying a seven-foot high shepherd's crook. "Praise the Lord and welcome" she thundered. "What are your names?" 'Mary' startled her: "You who bear the name of the Lord's mother are wearing pants [blue jeans]. A woman must only wear a dress!" Prophet 'Shoeshine' in person. She strode into a back room as Mrs. Davis answered phone calls, cooked, and tended to her husband, at whose bedside we sat only for a few minutes.
Davis soon recovered and Mrs. Davis thought that he could teach again. His full tone and its projection came from a rich dynamic range in which his notes spoke, their phrases a speech with each sound a syllable, a word, unlike guitarists in most fields who flatten their tones into even sounds. His accents were also regulated by the right palm's occasional muting of the low strings in the way a pianist pedals to sustain or dampen a sound, often overlooked by guitarists who keep a high wrist and finger position, allowing all the notes to ring out evenly, erasing hierarchies and layers of accentuation.
Davis was remarkably generous to favorite students. Their work would begin after lunch, interrupted by dinner, after which Mrs. Davis would bid them good-night, only to find them playing the next morning, having continued throughout the night.
He was taken to Jamaica Hospital after another stroke. Grabbing a big of soft fruit (he was toothless by then, without dentures) and borrowed cassette player, I again skipped school. He listened intently to guitar duets by Lonnie Johnson and Eddie Lang, as their elaborate harmonic base and speedy runs seemed to be an expansion of the early Carolina style he was influenced by (Willie Walker especially). Some of Davis' solos allude to Johnson's melodic arcs covering several octaves. He also enjoyed hearing Blind Blake's discs from the 1920's. One hoped that listening to his contemporaries would provide relief from the alienating hospital environment (a worry soon dispelled: he graciously flirted with every nurse within reach, inquiring if they were married, boasting how he could fulfill their wishes).
Davis had a number of Jewish students (as I am): some worried over his deep religiosity erupting into a castigation for not accepting the Saviour. Blues buffs refused to view him as anything but a former bluesman who turned religious and reworked earlier repertoire into sacred garb. Their vulgar importuning him to "play some of those low-down blues" could lead to rebukes laced with biblical references. During our lessons, one merely asked to learn any work he knew: as it was a musical encounter, Davis enthusiastically obliged. It became evident that religion was not a substitution for the blues lifestyle he had renounced. Under his extraordinarily comfortable armchair Davis tucked a well-read Braille bible. The symbolism and practical application of the New Testament stimulated his intellect and spirituality, extending a musical culture whose boundaries surpassed that of mere entertainers (for many bluesmen were professional musicians but rarely graced otherwise). Davis transformed his art and being through a quasi-Biblical stance: in performing Blow Gabriel, a call to awaken one's soul, Davis casts himself as a prophet declaiming the truth to disinterested masses. His spirituality was as immense as his earthiness (one student glimpsed the lethal knife he kept under his pillow, for he had often been robbed while singing on the streets), combining the extremes of existence, balancing them with a concern for fairness as his modesty and vibrant wit shone amidst pride over his musical achievements.
I arrived in his world when declining health restricted his Sunday sermonizing, but heard him relate an episode of his ministerial tribulations. One woman repeatedly phoned him in desperation: Davis mockingly bawled in falsetto, "Brother Davis, help me, I locked myself in the bedroom and my husband is outside with a gun and wants to kill me." "And what did you say?" we wondered. "I told her 'Well, if he wants to kill you, you probably did something to deserve it!' and then I hung up on her." (Yet another disorienting 'story' from him.) As much as he pursued women, he also seemed to have had a lifelong fear of becoming attached to the wrong person, advising me "Don't get yourself caught in a hole that you like too much and can't get yourself out of, you understand. No matter how good it gets, you have to be able to get out."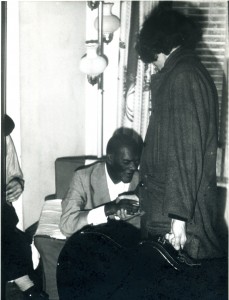 Amidst the dangers of temptation, perhaps more imaginary than real, Mrs. Davis proved to be his moral pillar, a significant force of propriety who placed the needs of others before her own with a profound piety, highly endowed with common sense, compassion, unstintingly charitable. His LP records were protectively stored under her bed, a pile which shrank as she never refused anyone insisting on having her last copy of a specific recording. Davis had found in Annie the incarnation of his faith, a woman of great devotion and modesty with a sense of justice and self-sacrifice (as she adored him and praised him to her dying day), able to transform herself from a hard worker (she toiled many years as a hired housekeeper) into an artist's wife, coordinating his itinerary, lessons, and the many who sought him. The aroma and expertise of her cooking aroused one's senses. Her cuisine bore a delicate touch and expert sense in seasoning and timing, transformed simple dishes into lifelong culinary memories. Her fried fish and chicken, sweet potato pie, mashed potatoes, collard greens delicately flavored with specks of smoked ham hock defined the height of 'soul' food. Davis ate heartily of her delicacies, a solace for long hours endured singing on Harlem's streets for their survival.
A more severe stroke brought Davis to the New York Hospital. I arrived with fruit, music, and a flute: before a lesson, I played sonata movements by Handel and Hindemith. He listened (with unplugged ears!) and asked to examine the flute. After briefly placing it to his lips and feeling the way it was fingered, he observed "You have a nice silver flute." Despite the severity of this stroke, Davis was soon released. While his physique had once been robust, his suits were now oversized for his shriveled body and gaunt face. A few weeks later, on April 21, 1972, Mrs. Davis permitted me to come for a lesson, urging me not to tire him: it was the final lesson he offered, lasting four hours (I asked several times that we stop but he insisted we continue). His playing had further slowed, allowing one to perceive more details.
Mother Davis (as we called Annie) rang up a few days later with an invitation to a barbecue on April 30th, his 76th birthday: "Roy Bookbinder and Woody Mann will be over." Unfortunately a family obligation arose. Five days later, en route after a flute lesson to dinner with a friend, the clarinetist David Krakauer, I dialed the Davis house from a street phone on an urgent impulse, finding the line busy for quite a while. Nearing his home, I phoned David: "Reverend Davis died today", he said.
Annie recounted how he suddenly felt ill as they were driving in New Jersey (where they owned a second home). At that moment a hospital was seen off the highway. He was rushed in, calling out to Annie: "Sweetheart, I'm leaving you!" She was not permitted to accompany him inside: five minutes later a nurse emerged to inform her of his passing.
I grew closer to Annie, visiting weekly after school. She now worried over her own health: "I'm no good anymore, just trying to put my best on the outside." She kept active in helping others and being involved with church life. Boarders were taken in. Brother Jimmy Kendrick, a devout, gentle blind accordionist from Florida had come to New York to sing Gospel on the streets and support his wife and children back home: Annie provided him with lodging in her basement and cooked for him.
Over the years, the phone would ring:
"Allin, can you come by on the second Sunday next month? I'm having a program at the church and want you to be on it so bring the guitar and do a few numbers of B. Davis'." One was expected at 10 a.m. sharp for a service ending twelve hours later. Annie and her fellow congregants rented storefront churches in Queens, Brooklyn, and the Bronx with folding chairs, an out of tune upright piano, sometimes an organ, and a roomy kitchen in the back, as many ladies arrived with generous trays of home-cooked roast turkey with stuffing, vegetables, macaroni and cheese, mouthwatering pies, puddings and heavily frosted cakes which sustained the faithful throughout a day of praising and celebrating God. At first I felt awkward as a non-believer, timidly facing the devout to play and sing Davis's music, but in time came to cherish their faith as an act of goodness to others, distinguished by an absence of proselytizing, moralizing or judgmental admonitions; it emerged as families and friends united to strengthen themselves to rise above life's hardships, the most compelling existence of harmony and spirituality one can encounter in any religion.
Impeccably dressed ladies topped with unique hats wailed their sorrows and joys in song, in swaying and pulsating rhythms, clapping and stomping on the floorboards as a young boy trying out R&B riffs on the organ clashed with a lady Bishop's steady hymn tunes on the piano, recalling Charles Ives' overhearing two marching bands coinciding at a New England town commons, as my energy ebbed from the heat, volume, and emotional intensity. Mothers cradled their infants, rocking them in rhythm to the sacred songs, the babies pleased with such embraces amidst joyous hymns. Worshippers receiving the Holy Spirit from the volcanic song and blast-furnace sermons commenced writhing, overcome, lying on the floor, as a seasoned bespectacled lady Bishop in nurse's garb watched over. It was a challenge to last beyond four hours, at which point I would leave with a hasty goodbye to Annie as the enormity of the experience became joyfully draining, leaving one pallid, emotionally spent.
Annie once called with an invitation to the birthday of a friend's daughter. It began as an exchange of commonplaces until the arrival of the short, meek Elder Toogood, head-shaved, sporting thick lenses, a young fledgling minister who seemed too shy for a pulpit, until he sat at the piano, gradually working himself up into a frenzy, electrifying all through song, bold rhythms, ending the music to build a sermon into an ecstatic outpouring (amidst vicious growling whenever one neared a locked bathroom confining the family's German shepherd attack-dog). The birthday girl, in her late teens, sat alone, dejected, withdrawn, indifferent to his apocalyptic preaching. (Years later, Annie mentioned that the daughter had a mental handicap.) All stepped back as Elder Toogood approached her, bidding her to rise, laying his hands on her shoulders as he sang, her head hung downward, drawing forth from her tears and deep sobbing, leading to a trembling, an uncontrollable shaking, as she began rhythmically dipping, swerving low, dropping, wriggling on the carpet, screaming out in tongues. Her possession silently lifted, she calmly found her way to her feet and managed to seat herself, her relieved expression hinting at a smile.
Up until her 100th year, Annie regularly attended church, sustained by her communion with God amongst fellow worshippers. By then she had outlived her three children (from an earlier marriage­ they died in their 60's and 70's) and would soon hold her first great-great grandchild. Annie moved several times in her late nineties until an apartment became available at a senior citizens center in Brooklyn. Diabetes provoked the amputation of a leg at age 101, which kept her home-bound although social life continued unabated and I was often enlisted to write and mail her correspondence. One day Prophet Shoeshine reappeared. The enigmatic clash of her name and permanent shoelessness was solved when she stated it was Shushan and that the Lord had ordered her to venture forth barefoot and she complied, never succumbing to cold or illness during frigid New York winters and rains. She also lectured Annie and anyone within listening range on the importance of diet, stressing how one must only eat pure, organic food.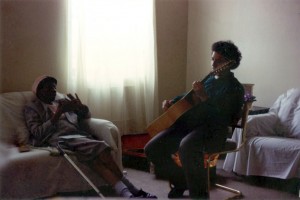 Annie's mind and spirit remained firm despite worsening diabetes, failing eyesight and poor hearing. One day in December 1997 while on a rare trip to visit a nearby relative, she grew weak and asked to be brought to a hospital, passing away hours later, two months before her 103rd birthday.
What is one to do with Davis' heritage, his way of playing? Many pupils incorporated his techniques into other styles. His music always impressed as being so complete that any changes would seem either in poor taste or the result of inability. One ought to study his variants and use them according to context, in response to the tempo and structure, the way one applies strategy while playing chess, to retain his style and language as a living museum.
Months after B. Davis' passing, layered electronic sounds began invading, pulling at me like an undertow. I tried approximating them on paper, studying composition, musicology, finding my 'style' within the classical tradition. Yet the example of his art and teaching remained as one's aesthetic and technical base in all musical forms. How else can one offer gratitude for Davis' guidance and encouragement but to ask all to explore the recordings of a being whom Mother Davis marvelled over: "You'll never find someone like B. Davis again, there's only one in a century like him."
Here ends my tale, written thirty-one years later, amidst concern over having forgotten something worthy of relating. Every moment is still vivid, thanks to him my fingers still dance on their own, the right hand seeking to draw out his sounds; all has settled in and is resolved.
All but the last moment. When our final lesson ended, he challenged me to arm-wrestle; he was weak but enjoyed the struggle (to my delight I noticed our hands were the same size.) I placed Miss Gibson in the living room closet as he teased Annie, grumbling: "You don't want me, do you?! You don't care about me . . ." Moments later Davis suddenly turned to me, uttering words echoing some African language (years earlier I heard spoken Sutu and Zulu).
"B. Davis, what did you say??"
"The unknown tongue. That's a language above an ordinary person's speaking, you understand. And it takes you to be able to edify that. Paul said it would be better for you to speak one word and the church be edified by it than to speak four or five words and you wouldn't be edified by that. You can't take a one-grade person and speak a ten-grade language. You've got to be able to master that. That's when you'd go in a store and ask the man what did he have to sell and he said he has some henfruit. I wasn't sure what he called henfruit. Do you know what henfruit is Sister Dee-Ray?" [she had just arrived: "Eggs."] "That's what it is. Last thing I asked what he had, he said 'galeña'. Do you know what that is? It's a chicken."
Would he repeat the words he had earlier described as a 'Hallelujah', again in the tongue? "You ask me to say 'hallelujah'; that's a praise to God!" [He obliged.] "You're all filled with joy, and you're above your own understanding without speaking."
Thanking him for so kindly offering his time despite such weakness, I headed home filled with gratitude and awe, unaware that I would never see him again.
Where are you Prophet Shushan? You, who may hold the key to Brother Davis' reminder of a dimension beyond the empirical: nothing since has had the resonance of that moment, this glimpse of an inner life, resonating like an archaic rite surviving from Africa, like the forbidding stares of initiates inhabiting the frescoes in the Villa of the Mysteries in Pompeii. (I can hear those who knew him laughing: "he was just talking in tongues.") No. This was not a Sunday service glossolalia: something else lay within. The door he opened remains to be explored, by someone able to enter into his faith and mysticism, to fully experience and reveal the tongue. Someone must also uncover the origins of all the music he offered. A phenomenon, Davis deserves nothing less.
–Allan Evans ©2002, revised 2013.
 p.s. I never gave up! Part of his mystery was solved five years later when I turned up a lost document in 2008.  In the early 1950s, Alan Lomax told John Cohen that Rev. Gary Davis' oral history had been documented. Cohen later wrote that it was not accounted for among Lomax's papers; quite true, as the project had been carried out by his wife, Elizabeth Lyttleton Harold, who recorded interviews with Davis at his home, resulting in a 300+ page typescript. Her field work reveals a blind, Black master musician in dire poverty (well before his discovery) freely opening up to his new acquaintance- a White scholar whose empathy and probing questioning earned Davis' confidence. Here are some revelations of Davis' life, unabashed, speaking out at a time in which such words would have ended his life in other circumstances.
Harold writes (11 April 1951):
"There is absolutely no controlling or guiding him. He says what he pleases, when he pleases to say it, all very pontifically. I think the resemblance to the authoritative African wise man or witch doctor is striking. . . I am pleased that the fruit of our slowly ripening trust and friendship is ready to be plucked at last. Rev. Davis is a wonderful, poetic, old gentleman. He is also as bitter and grieved a ghost of human decency and dignity as ever haunted this weary strumpeted old earth."
In later years, we, his students, refrained from ever questioning him about life's traumas (especially his blindness) or of the racism that haunted his existence, as our contact centered on learning his music. Davis and his wife Annie lovingly welcomed us into their lives as family, making it unseemly to impose on their privacy. Elizabeth Lyttleton Harold's background in psychology and anthropology enabled her ability to remain involved and detached while effectively drawing out Davis' story. Their encounters would never be repeated by anyone else with such depth or breadth.
One enigmatic detail: Davis' nightmarish encounter with a 'fowl' resembles accounts of eagles interacting with American Indians in sweat lodges. It led to a spiritual awakening, told in details which few ever could access. And it is his singular experience that expands our knowledge of the plight faced by so many during a time when an even greater blindness – racism- flourished and was socially accepted as normal. Davis' wisdom and music triumphed, for he spent his last decade performing, teaching, beloved by all. We offer excerpts from this oral history in the spirit of Goethe's observation, that specific details often reveal the whole.
note: texts in parens are descriptions of Davis; those italics in parens are Harold's questions or responses.
Elizabeth: Rev. Davis has such a philosophical mind (he begins to laugh with wickedness and pride – Hah-hah-hah-hah in back of this flattering remark. He is very devilish and coy) that the hardest time I have had with him is getting him to tell me the everyday, down-to-earth things of life. (He bursts out in a great derisive high-pitched Yaaaaaaaaaaah!) He's such a complete poet. (Heh-heh-heh-heh!) It's just like pulling eye-teeth to get him to tell me things. (Haaaaaaaaaaaaa! Heh-heh-heh-heh-heh!) He starts to talk in a general way about things – which is wonderful, but I have now a lot of that and I want all the details of his life. I want to know what he does with himself all the time. He's mysterious to me still. (Huh-huh-huh-huh-heh-heh!) (We both laugh loudly).
Mrs. Davis: I try to get him to stay on the same subject, try to get him to concentrate along, stay on the same subject till you finish it.
Elizabeth: Well. He has the kind of mind – he's a philosopher. He's always unwinding a thought. (Hahahahaha!) And building up a whole speculation about the world and –
Mrs. Davis: Yeah.
Elizabeth: But I cannot get him to tell me just the down to earth gritty stuff.
Rev. Davis: (Triumphant and still laughing) You remember the last time I and you had a talk together? I told you: there is some things right on the bank and on that bank was rotten. And if you mess around on the bank, where it was caved-in ground, you're subject to go under. You understand? Well. Anytime your life is involved in anything you better not mess with it – that part of the ground. Because – I want to live as long as I possibly can. Isn't that right. Some of you wants to die yet I don't care how much you pray, I don't care how much you do nothing, you want to stay here as long as God will let you stay here. And so when God call you, you can talk to God like Ezekiah and Moses talk with him. God had to let you stay hear a little while longer, if he hears you like he heard them. I ain't joking. Now there's one thing about it. You ever drew your breath a little bit? (suspires heavily). You hear that? (He does it again. . . lazy sensual enjoyment) That feels so goooood. When I get so I can't do that, the jig is up.
It takes bitter medicine to do you good. But it's a fact – I have had greater light on this experience about things, that's why nothing don't go hard with me. That's the light that substantiate me to tell anybody what to weep and cry over and what to laugh over.
My father got killed when I was small [age ten]. He was shot. He was killed in Birmingham, Alabama. We heard that the High Sheriff shot him. I don't know. Don't know.That's what I always heard. I don't know whether there was any justice done by it or no. My mother married again when we stayed there at the Calhoun Wallaces. (How did you get on with your stepfather?) He didn't do us no harm. . . then too again, he wasn't quite so good either.
(How did you feel about not having a father, and not having a mother with you all the time?) I felt horrible about it because I felt like I was throwed away. In fact, my mother never had cared as much about me as she did my younger brother. She always have thought that he was, (his voice thickens,) he was just the very thing to her. He was her heart. (Did she say that to you?) She always had shown it by the way she treated him. She always fix him up to carry him everywhere. She never was known to carry me nowhere. She carried me to church one time and she cursed all the way there and back. She didn't want to be bothered with me. She thought I ought to stay home all the time. . . She'd wish I were dead. She tell me that a heap of times. Sure. (A low, sad, half laugh). Sure. It's not what you say, it's what you show to prove it.
My father give me to my grandmother when I was a child. He felt all the time that she would be stationary enough to take care of me. . . From what I have learned of my mother since I came to be of age, she was once upon a time a rough woman. She liked a good time, just to be twisting about from one place to another. Didn't care to be bothered with no children. (Yet she bore eight children, did she?) Yeah. All of them died but we two.
So far as I know, according to the statement of my grandmother, I taken the sore eyes when I was three weeks old. And the doctors put something in my eyes cause ulcers to grow over my eyes and cause me to go blind.
Since I was a man that come up that didn't see, that perhaps if I had been a man that could see like the others, perhaps I might have been in the bushes trying to make myself escape for my life, like others. And I might have seen more than I cared to live upon. Now, what I'm trying to get you to see: a lot of people, you know, looks on a many things, and his eyes have caused them to lose their lives.
A many times where many people have been strung up on limbs in the low countries and lynched just by looking. Sometimes some men never done nothing but just look. See? I often think of that. Well, a body's eyes were made to look right enough, but sometimes it pays a man to keep his eyes closed. That's what the Scripture says. "If thy right eye offend thee, pluck it out." Sometimes you see too much. Sometimes you see things you have to tell again about what you seen; and if you haven't seen it, you wouldn't have to tell nothing about it.
As long as I am here, in this present world, here, we'll have a lot of things come about to cause us to shed tears. You understand? You ain't going to laugh all the time. You ain't going to be on the mountain all the time. You gonna have your hand on your face sometimes, crying about it. You got to do everything a little until the time come for you to make your departure from here.
You hang with a thing, get attached to it, you love that first thing. The reason why you love it, cause you haven't had enough experience in the world to know what you should have come in contact with. And that first thing, you'll come to love that thing, and it may not be fit for you to love. But still you'll love it. It's all right to you because you love it. So that's what happens to all of us. We haven't all time had sense. We been crazy. In fact, we been fools. Some people hate to hear me say that, but it's the truth. There never have been a child born with all he need to come here with. No, it ain't. Might come here with good brains, but he haven't had all the developments. That's a fact. And the first beginning of your life is hard to handle anyhow. Especially when nature begin to have its exercise.
[One] song come to me when my mother was working, and she taken sick three months before she died. And this song came to me when I was lying on my bed. Came something in the room to me: I thought it was a fowl, or a chicken. It got on me, and it was heavy. I don't believe there was nothing I could find that weighed as heavy as that thing. Got upon me, almost mashed the breath out of me. And the mouth of it: had a bill mouth just like a fowl or chicken. It act just like a chicken for it jumped on the bed. And the wings of it just as white as the dripping of snow. It said "I have a message for you." I couldn't say nothing. It had done jumped up on top of me and was mashing the breath out of me. I just grabbed it and bit it, on the jaw, you understand? While I was crying [in remorse from having bitten the unknown being] it was a little boy came to me. Had hair as long as he was high. Had a French harp in his mouth and he was blowing straight up, singing this song: "I'm On My Way Back Home." (Reverend Davis, before this song came to you, did you have religion?) I had backslidden from God. The Lord called me to preach a long time ago and I just wouldn't give up. (He sings. His voice is rough with grief. Tears pour down his face.)
(Reverend Davis, was that a dream you had of the child who gave you this song?) It didn't appear to me as a dream. It didn't appear to me as a vision, just like I was natural[ly] awake, just like I am right now. (Where were you?) I were lying down on the bed. (At your house?) At my home that my mother had prepared for me to stay at while she was working at that time. She was working at a factory, a [to]bacco factory, stemming 'bacco. All of them died but me and my mother. My brother had done got killed. My father had been dead for years. (It seemed that this child actually came to you?) Came to me just as natural as I hear you speaking right now. Not a bit different.
It might [be] very distressing for you to hear me say but it [the 'fowl'] got on me. When I bit it, it got off of me. It was starting to leave me. When I commenced to crying it wouldn't leave me. I felt sorry after I bit it. I broke down after I bit it. (Did you cry?) I reckon I did! Shouldn't ask me did I cry! Oh shucks, look to me like I tried to wash myself away. I felt it had come to me as a message to tell me something of where I had left off in the starting of a life of Christianity. I had been called as a minister and I didn't want to, there were things that had caused me to be careless. And the thing come to tell me it had a message. I never did receive the message, but the moment that I had surrendered I broke down in tears. And I put my fingers in the prints where my teeth had went into the jaws of the thing. The more I touch it the more I wept. I felt so sorry that I did it. (He breaks down and cries.)
We shouldn't be so quick to use our own things to fight ourselves out. You don't know what you might run up against. And then you don't even know what you fighting. First look before you shoot. Sometimes you hurt your best friend. Wouldn't have done it for nothing in the world.
We've got too many rubbish-head people. You know what I'm talking about, cruel people. Rubbish-head. (mutters) Lord, should I say that? (throws back his head, closes his eyes and prays:) Jesus, I won't never say it till you give me a sign. (A wait. Evidently Jesus gives him a sign.) Jesus, I thank you. (begins:)
Rich man, he always think himself above such poor people. Still that rich man will stick to his own kind. Bible said, Out of one blood brought all nations. God has no respect of persons. For the respect of all persons on earth. We are not dogs. Why should someone take you out and kill you like a chicken? No law for a dog in Virginia, South Carolina, and North Carolina than for a colored person. Now. Hear what I think. Let's love one another. I mean the godly love, If they electrocute me about a white woman, let's electrocute the white man over a colored woman. I'm in favor of the electric chair.
A white man in Greenville, N.C. called a twelve-year-old colored girl to wash out some dirty clothes for him. He put his gun in her face and split her wide open. The white folks knowed he did it. They got that boy away from there. It never came to no conclusion that I knowed about. (high falsetto scream) What could her people do? Nothing. If your dog bites somebody else, you'll try to compromise it some way. If he bites you, you'll kill your own dog. See what I'm talking about? That's a parable.
We belong to the white people. If we fool with a white woman, they'll kill us. We ain't got no law. We belong to them.
It was a long time 'fore I got myself tamed to white women. If I just brush up against one, I was looking for somebody to lynch me. I went in a store in Greenville, South Carolina, on Burnish Street, into the company store to buy a sack of flour. I couldn't see the woman. She had eyes. She could've got out of my way. The storekeeper said, "My God, you're walking up against that white woman." I just tell you truth I didn't know nothing I was so scared. I said "Mister, I can't see." "My God, you ought to be careful." That's what he said. I forgot what I came in that store to buy. I forgot I was hungry. I went home, thought I had done eat. I felt like I had come close to getting killed. I stopped in there to buy a sack of flour and I like to got killed.
Always buy my flour every Saturday. I like not to went to church less somebody would preach my funeral. You say it's terrible. Well, you're one. You ain't got the strength and power. You want a dust of flour. "Well," you say, "I wish I could let you have it, but I can't." Go to the man that's got a barrel of flour; he say "Ma'am, I ain't gonna let you have no flour." I say that as a parable.
I tell you, Mister, what's the matter. The wrong people has got the power. They ain't going to have nobody in them seats that ain't smart enough to chisel you out of your share. [The Welfare Board of New York City:] If they see you can't chisel, they take you out and put in somebody ain't got no mercy. You go from the Welfare to the top of the nation. What are we going to do when the head of the church is rotten? You got to kill the head before the whole can grow healthy again. That's what's making this war. Heads is rotten. Rotten people's got the money guarding it. That's what's making so many hoodlums. I hope I ain't said enough to hang me.
I'm going to tell you the only thing that will help it: All nations, all colors, has got to get together and pray. Preacher has got to hold the gun. That's what makes my lot so hard. I know what to say and yet it's death to say it. I'm leading the people so I know what to tell them, yet I know it's death to tell them. The prophets that preached back in ancient times, the old Roman soldiers burnt them. You could smell the burning flesh for miles. They burnt them for standing on the block of truth. Let not your good be evil spoken of.
Sometimes we try to help and our own people is the instrument of our dying. I could say these things to my congregation, but how long would I live? Although we promise to die with the truth, we sometimes die without ever telling it.
(What do you imagine Death looks like, Reverend Davis?)
Come to me as a deep shower of rain.
Don't know how it come to nobody else.
A dark, deep shower of rain.
I sing Christian songs, try to bring some brightness to the minds of the people about how we should do, how we should live.
(Don't you think you're an unusually wise person, Reverend Davis?) 
I don't know. . . I know what I know, though, will keep me living. (Not forever though. . .Do you think that you'll go to heaven when you die?) Nobody goes there. Ain't nobody left here and went there, and sent back no news about going there. Ain't nobody went to Hell and come back and said nothing 'bout how it was neither. You want me to tell you where heaven gonna be at? Right here. Right here on this earth. After this old earth is burnt up of the ungodly nation. (What is the ungodly nation?) People that don't serve God. That don't believe, and don't confess Jesus. The Bible tells me that we'll live forever. The Bible said it's gonna be a Hereafter. It's going to be right here.(Will we be in the same form?) No. No. You won't be in this here. No. You gonna get out of this body and get in a spiritual body. Be just like God himself. (Eating, drinking, lovemaking?) No, nothing like that no more.
The weakness of man's strength and the brightness of his knowledge is what makes a man the finest of God's creatures to walk the earth. I'm all the time studying what I can do for my people. You can't do nothing for yourself unless you do it for somebody else first. You can't bake a corncake for yourself unless you bake it for somebody else. It ain't worth the effort.
In this world we have to talk a little and hush a heap.
Love is just like a vein in a spring [a drinking spring]:
Keeps you with supplements to cherish up what you have.
– Rev. Gary Davis, April-May 1951.