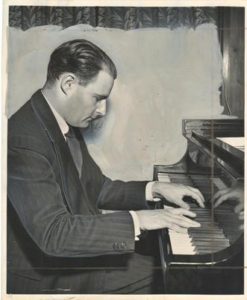 Viennese pianist Robert Goldsand (1911-1991) visited the studios of WBAI-FM one Spring morning in 1976 to be a guest on my weekly radio program. He proved to be a lively commentator, his passion for the piano evident in his voice – the voice of a musician-educator.
Goldsand plays Chopin: Sonata no.1 in c min. op.4 (Finale); Variations on "Là ci darem la mano" op.2. Performances issued on Concert Hall Society CHS-1150 (1959).
Mr. Goldsand spoke much about the many-faceted Moriz Rosenthal, with whom he studied as a boy. Who would have guessed that Rosenthal advocated reading (a book, not the music!) while practising, to train the brain? Or that Liszt did the same?! This was shocking to me at the time, but since then Allan Evans has published a photo of Ignaz Friedman reading while practising, in his biography of the great Polish pianist.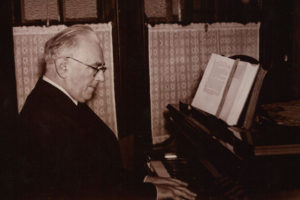 (photo: Ignaz Friedman at home)
If Liszt (and famously Henselt, who read the Bible), Friedman, Rosenthal, and perhaps Goldsand all propped a book up on the music desk, how bad could it be? Perhaps this practice method was suited for pianists who didn't really need to practice so much!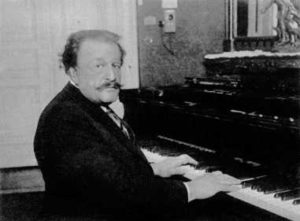 (photo: Moriz Rosenthal)
Goldsand stresses how young he was when he was influenced by giants such as Rosenthal and Sauer, and his Chopin playing (a specialty) shows how strongly these influences took hold. He stands up for Chopin's youthful Sonata in c minor, op.4, and plays the last movement as if it were a masterpiece. Goldsand's authenticity and personality confirm that he is the product of a golden tradition, a solid link in the Great Chain.
(photo: Emil von Sauer)
[Mr. Goldsand brought along to the studio one of his students from the Manhattan School of Music, where he taught for almost 40 years, who offered his own perspective on Goldsand's teaching.]
James Irsay ©2017