Cross paths with some sounds and you might risk being abducted. How did it come about and just who's the force behind this business? Brushing away the dust clinging to Oskar Fried, a dead conductor, exposes his sounds through technology and drags him right back here from sleeping in the shellac grooves.
Every glimpse of him brought unexpected associations, one reaction after another, either extreme loathing or profound admiration, nothing half-way. Fried rascally covered all traces, leaving only a sound trail behind, shrouding his outside activities in mystery, one we shall attempt to untangle, on the installment plan, starting now.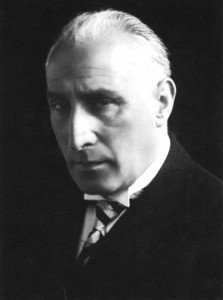 We open the scene onto a suite from Stravinsky's Firebird: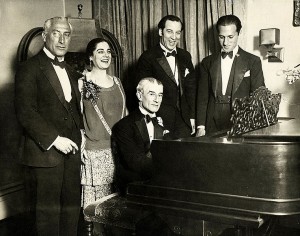 Beyond belief how he began conducting with the Berlin Philharmonic around 1905, for he never led an orchestra before them. He confessed to a Berlin critic that the only work after desultory years as a dissipated Berliner playing the role of a Paris bohemian was some horn parts here and there, then training dogs and circus animals, probably the best steps towards becoming a conductor.
Landing into an avant-garde Berlin, some powers controlling recordings had Fried bring the whole Philharmonic into a hall and capture the Firebird in 1928.
A malevolent dance sears with sulphuric stench and heat, shifting our sensibilities onto a daemonic plane. Old records are noisy so any Sissies out there should cover their ears or leave. Time makes noise but these sounds will nourish your soul:
The ballet was a recent arrival, still jolting to most pampered 19th century ears at large, something that could amuse Fried, who later teased audiences by juxtaposing works that never belong together, breaking the rules and succeeding.
His life started in 1871, a good ten years before Stravinsky's. While saying that he had to quit school at a very early age to work, I spotted references to him by the poet Rilke, who became the older boy's friend and confidante at their exclusive boarding school.
Fried summons cosmic visions of vast boundaries veering into a dream state, a transcendent mind leaping from the frenetic into the slow breathing of a new outer and inner space:
Fried transports us into a soft stasis of clashing lines going against each other in opposite directions that transform the spectacle into the reawakening sounds of nature:
This same Fried also wielded an iron grip on profound Germanic masterpieces. Soon after the Firebird was cut, he was asked to take on Beethoven's Ninth Symphony, which is still to be found (but not vivid like this new restoration for the blog). He crawls into Beethoven's skin and out it comes in his knowing perspective, tempered by a Berliner's sarcastic wit heard in the articulation, this crucial moment in Beethoven with Fried guiding tension through a restrained intensity leading into grandeur:
A first step into documenting his life resulted in this cd and article:
I couldn't keep my hands off these studio recordings and discovered that some performances captured on stage survived, so they had to be published. A new work is in progress and we'll follow its destiny as the music he personally identified with more than any other work. Our next blog will observe his interactions with Mahler, man and music, and probe his character and exploits. Here Fried is seen with his one and only confidant: