part two
Before planning to meet Rezzori, I contacted Beatrice Muzi, an artist living in Le Marche whom I had encountered two years previously and once visited at home a year later, coughing and wheezing from the cats abounding in her family's farmhouse. Memoirs of an Anti-Semite had been translated into Italian and I surprised her with a copy, asking if, perhaps time permitting, she could join me and meet this enigmatic writer. Looking on the map, there was a direct road from Fano to Pontassieve, not far from his home outside of Firenze. Nothing could be shorter and would avoid schlepping up to Bologna and then facing grim tunnels burrowing into Toscana.
The road past Fano soon had an upward incline and our arrival at 4 p.m. might be delayed. Night fell and the road became a serpentine slew of hairpins. Every hour or so  we would happen upon a lone dimly lit bar or cafe, calling Rezzori to tell him we're almost there. By ten in the evening, we struck Pontassieve and followed the local routes he prescribed. From hours of vertiginous turning we now faced an unlit track road hidden in woods with steep inclines and unexpected wrecks of tiny farmers' sheds and an abandoned house. After a period of doubt and sensing that we had stumbled onto topography that influenced Dante 's Inferno, a rural facade appeared in the darkness with a shadowy figure.
We stopped to ask directions. At an open door we saw a tall slender man  leaning against the archway in a slihouette caused by the yellow light from inside. FInally we can ask someone for information, we thought, so we stopped the car. The man was surrounded by the infernal asthmatic yapping from what we later learned were a half-dozen pugs and like a master devil, he turned on the side and looked down to tell them "Quiet!"
Smiling to us, he announced that we had arrived. "Come, come, so there you are! You shouldn't have taken that road!"
When Rezzori heard that my companion was named Beatrice, he complained, "No, you're not the real Beatrice." "Yes I am!" she said. "The real one is in Istanbul [his wife]." Beatrice insisted that she was real, that maybe there is more than one. "Well, there is more than one then." We didn't meet her on this visit but Rezzori said she had previously returned from there and bought spices from the market. "Have you eaten? No? Then I'll prepare for you Sultan's pilaf."
His serenity in the kitchen and the profound wine of his land opened a conversation and my first burning question for him was about a specific word appearing in his book:
He mentioned that it was a term used at that time and happened upon it while looking into Lombroso, who studied criminal physiognomies, when he was young. A part of that time during his growth and discovery led on into conversation ending that night five hours later, one we continued over the next thirteen years.
"Have you a hotel reservation?" Well. . .is there a pensione or hotel nearby? "No, absolutely nothing, nor anywhere near. Look, why don't you stay here tonight?" We climbed the stairs of the old farmhouse, passing huge canvases by Castellani, Ottoman furnishings coming from his wife's family that hailed from Constantinople, the pugs snoring stopped at they scampered between our footsteps, grunting like piglets, as Grisha, as he insisted we call him, pointed out an array of rooms in their restored farmhouse. His bedroom had sunken bathtubs in the middle. One room was a replica of an English country hunter's cottage. "You may sleep here, You may sleep there, you both may sleep here, or there. . .".
We headed into the cottage, and our visit lasted three days. Grisha knew little of music, aside from being acquainted with Herbert von Karajan before the war and having known Mitja Nikisch, the pianist son of the great conductor Artur, who committed suicide in Venezia. Grisha had planned a memoir of this eccentric and tormented musician who swung between jazz and classical, spending his last days in depression being coddled in a gondola by a Russian admirer who abandoned his life to care for Mitja. In time, the story had faded and he regretted losing the thread.
Grisha's personality strikingly resembled an account of Franz Liszt written by a Hungarian pupil of his, Robert Freund. When we saw Grisha a short while later in New York, a surprise that such an inaccessible writer frequently turned up in the middle of our city, we could experience a similar distinction noted by Freund:
 photo of Liszt with his pupil Alexander Siloti, Weimar, c.1884
From then on [1870] I had permission to visit him every Tuesday and Friday afternoon. He had two other students at the time: the composer François Servais from Brussels and the later notorious Olga Janina ("Souvenirs d*une Cosaque"); I, however, always had the good fortune to see him alone. Liszt gave the impression of a sophisticated, perhaps even somewhat affected man of the world in the salons; in small company or when alone with him however, you felt the total impact of the greatness of his imposing, venerable, incredibly ingenious personality. The gentle calm and the sublime clarity of his judgment, the universality of his mind, the simplicity and innate nobility of his comportment were incomparable.
Working on a piece for the New Yorker on replicating Nabokov's car trips described in Lolita, Grisha asked me to review his manuscript. His latest novel, The Death of My Brother Abel, had been translated into English and he was briefly interviewed by a college radio station, reading from the text:
Much of his writing focused on the lost worlds of his youth, being born in Bukovina, as he termed it, an "astronomically remote" region of the Austro-Hungarian monarchy, which then became Romania, later held by the Soviet Union and now belonging to the Ukraine.
It was a delight to share views on favored writers. Once he ogled an upcoming facsimile reprint of Diderot's Encyclopedia, which I urged him to avoid as it would rob time from his writing, knowing how obsessed he would become with such an edition within grasp. In a narrow room he had a long table with separated stacks of ongoing writing projects, and managed to be extremely fertile, and naturally he ordered the Diderot at once. Reading Bruno Schulz for the first time, I ventured the impression that he might be on Kafka's level: "Yes, absolutely. Possibly even greater than Kafka." He asked if I had read Susan Sontag's new novel The Volcano Lover: "It was one of the worst books I have ever read!" He felt very drawn to Gombrowicz and when Rita Gombrowicz once came to New York for an evening at the Koscziusko Foundation, word got out that a flippant critic was ready to attack and expose details of Gombrowicz's allegedly lurid past in Argentina. Grisha was riled: "Let's go there, both of us, and defend her like lions!" Rita was taken aback by Grisha, whose manner reminded her of Gombrowicz's: "He's so noble, just like Witold acted."
Midway through Canetti's Auto-da-fe, I asked what meaning he found in it, especially this work, so unlike and numbingly duller than Crowds and Power or his autobiographies. He answered cryptically and clearly, as was his way: "Canetti had the need to fill a page. This is something I learned from Musil." Grisha referred to Musil's The Man Without Qualities as a fundamental text. At a party in their Manhattan apartment he motioned me over to an elderly gentleman with a classically beautiful Japanese wife in kimono and obi: "that's Pitz, come meet him." Pitz was Hermann Broch's son, who began telling outrageous stories about his one-time piano teacher Oswald Kabasta, a conductor who later committed suicide together with his wife on Hitler's defeat. These denizens at Grisha's soirées breathed the core of a lost and exiled culture.
Once Grisha called and I invited him and his wife Beatrice to try out Capsa restaurant, which made him laugh as they had usurped the name of the foremost Bucharest eatery.
Grisha was planning a return to his native Czernowitz after the fall of the Iron Curtain and pondered his status as an exile:
So we piled into a cab and headed over. The president was at his nearby roost, supervising a rather quiet atmosphere, when a middle-aged hefty lady came in, a scarf covering her head, dressed in a drab raincoat, rushing downstairs. We ordered snitel (schnitzel) and sarma cu mamaliguta (stuffed cabbage with polenta) and the cloying moscato white wine. Suddenly an accordionist emerged to play and the lady who quietly slipped by arose in traditional costume and eyed the room. She espied Grisha and knew at once his origins and focused on him, singing a welcoming song, gesturing, mixing honorifics with insults, deriding him in every way possible in dialect. Grisha sat stunned, his eyes tearing. Afterwards he managed to say that it would not have been possible to witness this ceremonial pleasantry even in the Bucharest of his time, that one had to venture deep into the country for such an experience.
I received much insight from his remarks and felt that whatever sharpened my historian's instincts came from an osmosis passing through his presence. Here are a few of his speculations on a Europe soon to unite.
Once Alex Melamid and Katya Arnold came along to meet him and his Beatrice in Toscana. My Beatrice was with family and expecting a child in the Marche, for the morning after our meeting, I crept into Grisha's room while Beatrice slept in the English lodge, awakening him to proclaim that I would marry Beatrice. He inscribed my copy of the Memoirs: "from one worshipper of a Beatrice to another."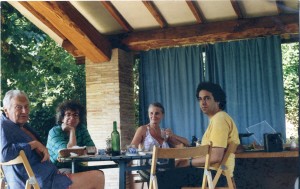 Best interview so far: