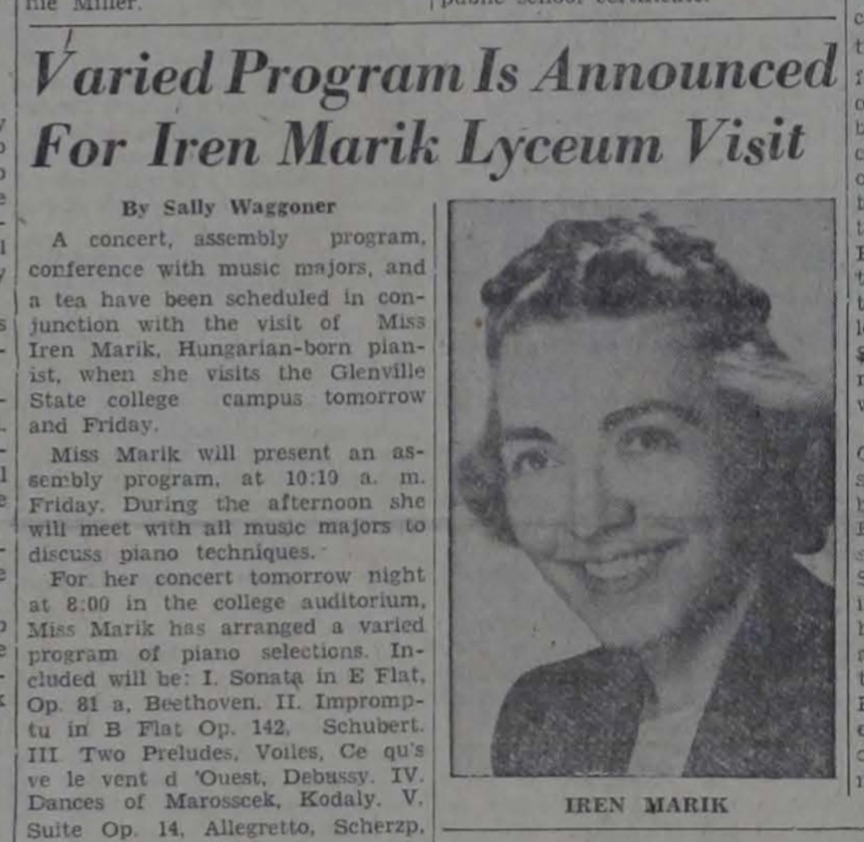 After 9/11 I panicked over having the only known copies of Irén Marik's 100+ hour archive and began to digitize the tapes that arrived soon after her death in 1986, a bequest that came as an unexpected surprise. With the originals safely filed in a university archive her legacy was protected. Among unlabelled boxes came unidentified pieces, well-known works recorded in concert, numerous practice tapes she had discarded but saved without her knowledge by Evelyn Eaton, the author she met when they taught at Sweet Briar College. My original hunch that she had piano lessons from Béla Bartók was alluded to by her whereas in Budapest, from where she had defected in 1946, news of her being alive in the California desert brought forth more info from close friends of the composer whom I met in 1983.
The lion's share of having been Bartók's pianistic heir was hogged by the late Gyorgy Sandor, who never hesitated to show a photo of them together
and boast of his unparalleled grasp of the composer's style but never offer substantial details about his beloved master.
Sandor playing Bartók's Romanian Dance No.1
So, according to Sandor he can project the way Bartók conceived it! Sandor's Prokofievian circus music lacks characteristic sweeping gusts that the composer uses to round out phrases; sufficient for his Juilliard pupils and critical acclaim.
Much fuss over great female Hungarian pianists usually upholds Annie Fischer and Lili Kraus as being top tier artistes. Of the former, she lucked out by marrying Aladar Toth, Hungary's foremost music critic and king/queen-maker who regrettably resembled the anti-totalitarian Arthur Koestler.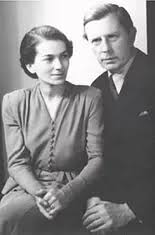 Toth brought off wonders for her career and with his ties to a regime despised by those who fled, such as Etelka Freund and her family, enabled privileged travel throughout the continent. Her high-strung modern-industrial style was entirely personal, having little resemblance to the folk origins and sounds of nature permeating the composer's inner being. Kraus had a larger career in Europe and the US, backed by numerous recordings, concerts, master classes, a professorship. She too had to modify her musical origins by citing Bartók and Schnabel while avoiding  mention of her lessons with Severin Eisenberger, a Leschetizky pupil then based in Vienna who had been taught by two of Czerny's pupils, making him a close link to Beethoven.
Comparisons of Bartók's Allegro Barbaro:
The height of Hungarian musical pianism lies within Etelka Freund, Irén Marik, Ilona Kabos, Zoltan Kocsis, and Dezso Ranki. Listening to them provides a substance that overshadows public relations product meant for the salons.
Fragments emerged from her archive. During her mid 70s, Marik prepared to record Beethoven's Sonata no. 15 Op. 28 in D. The finished results were acceptable but this test has more informal spontaneity than the approved result.
Liszt and Bartók's music were her native tongue yet Chopin came with a slight distance. In his most audacious works, Chopin provokes Marik to underscore how his intents surpassed his time by arriving into the following century. She exposes interlocking structures with a single dry line of the last movement in Chopin's Sonata No. 2 in B-flat minor:
Schumann was always within reach. A Town Hall debut in 1952 included his Carnaval and a home try-out the Symphonic Etudes appeared on an unmarked box dating from the late 1950s:
One significant reading is of Chopin's Ballade no. 2 in F, Op. 38. Further investigation may turn up its ending but for now, why not bring it to light?
As some of these comments may disturb or anger, I wish to evoke Brahms by saying that if I've failed to offend someone then I sincerely apologize as the only way to keep such music fresh and new is by interfering with the status quo.
more info:
https://arbiterrecords.org/?s=Marik
Allan Evans ©2019