Janis Joplin abandoned Port Arthur, Texas and first emerged in San Francisco. Her singing came as a shock but also one feared that her straining would permanently tear up her vocalizing. A sword of Damocles at her throat. More exciting than her presence were the rare and unchained guitar solos offered by James Gurley.
Rare interview with James Gurley
The guitar's  lines fight and soar over a steady pulse, creating remarkable tension, a liberation from being earth-bound, unpredictable, nuanced.
Outside the condensing studio limitations their band played for dances with light shows adding to the stimulation. Many of their early concerts were recorded at both Fillmore auditoriums (San Francisco & New York) in 1968. The following year Joplin dropped the band to get a more commerical and arranged sound, gaining popularity but losing her edge. A great part of her early bravura was due to Gurley's presence as an sonic provocateur. Minus his shrill distortion her voice settled into a caricature of her former glory as the career propelled her into gaining greater recognition.
Gurley had a more extended Summertime solo when his duet finished in one concert at 0:33:
One work that had a raw foray was omitted from their stunning debut album. Most groups tank with their second, the third being a live compilation and dissolution. Big Brother with Janis lasted for only one project. Their iconic cover by R. Crumb opened up endless suggestions and speculation.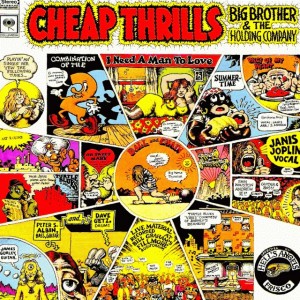 His career was sustained with a role by part in revival bands. A few years before he died days before his 70th birthday in 2009, Gurley offered these words about the role of creation in life and art.
Gurley was a rare example of free forms emerging in a progressive experimental music that had a short lifespan yet profoundly influenced and infected anyone within listening range. The support and expression of each and every note bring to mind the sound heard by masters of the raga. Whereas the Beatles and others added sitars like seasoning to their music, Gurley grabbed pitches by the jugular and brought them in as the music's blood .
Allan Evans ©2014
update: extended solo with Big Brother, 1967 (h/t Stefano!)