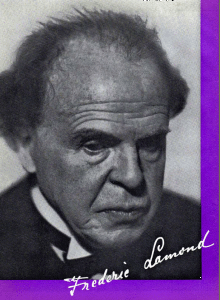 What a dizzying array of history swarms around the legendary pianist Frederic Lamond (1868-1948). Like his older colleague Eugen D' Albert, he was a Scots who made Germany his primary home. This little bio fleshes out the pile up of historic figures he bombinated with. Cosy in Berlin, Lamond reigned as a leading interpreter of Beethoven's music from the end of the 19th century up until the 1930s.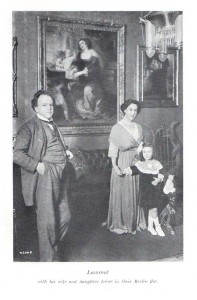 Shortly before he passed, Lamond was featured on the BBC, reading from a script, in which he recalled the youthful emotion of meeting Liszt and becoming his pupil. Whether he heard Liszt play is another matter and neither is there any recollection of private lessons received, so like many others, the atmosphere of contact was one finding the young pianist being coached by Liszt to be more expressive, urging from by a director for a film or theater. Liszt's final visit to London coincided with Lamond's debut and his master's attendance added allure to the event. Lamond's moving account seems to aim at transmitting through osmosis the mythic kiss Beethoven bestowed on the young Liszt into Lamond's psyche. His delivery, instead, immediately raises suspicions about just how well he ingested Beethoven's art.
Like may Scots for whom English is a second language, Lamond acquired proficiency in German and knew a bit of Russian. His Masters Voice grabbed him early on to document his Beethoven. What really strikes is how he clarifies all the melodic moments, their appearances in all registers, and deftly calculated accents. Here is an  example of his Beethoven, a work entitled Scherzo, implying wit, humor, lightness, surprises, a Beethovenian jest:
When did the joke start? Did Lamond have any idea that something could be amusing, tritefully witty, that there was a tossed-off barb in the middle?  How about Edouard Risler, born five years later?
Luckily he was Alsatian, which made it easy for him to co-exist in Germanic and French cultures. He played the Beethoven sonatas as a cycle and is ignored as his recordings came too early, on an obsolete format. His Beethoven chases its tail; Lamond chases his reputation:
Lamond tries hard to show off how serious and important Beethoven can be, but unlike the healthier mental and cultural diet of Risler, Lamond's proper constipation prevents Beethoven from reaching beyond his own pedantry. Lamond's rolled bass notes sound clumsily timed, visceral returns after chugging down beer.
But this is Beethoven's lighter side and we chart the depths he aimed for and reached, even entirely bypassing the 19th century in his late works. Chopin spoke of having disliked Beethoven's music but made a strong exception for the Twelfth sonata, which seems to have inspired the design of his own Second. Its final movement has to resolve the emotional darkness of a funeral march and a set of variations into a flurry of setting everything down, reshaping the dramatic chaos into a cosmic release. One pianist who captured this effort was the Russian-English Mark Hambourg,
who divined what Beethoven omitted in words:
Lamond recorded the sonata nearly at the same time as Hambourg:
Lamond plays Beethoven op. 28 IV
Artur Schnabel soon eclipsed Lamond, starting in Berlin and spreading his newly revived Beethoven globally through concerts and recording all the sonatas. Recently a Beethoven Third Concerto with Lamond in concert was published  by Marston Records and it most likely will represent a better idea of his art, as his stodgy studio playing only offers the sterile mic any musical tributes.
As a teacher, one pupil returned in anguish for his second lesson. Earlier, the young Dane Borge Rosenbaum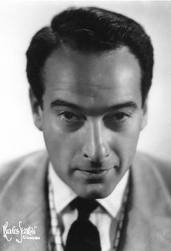 was stopped every bar being told that all was wrong! He felt acute intestinal pains each time he returned to ring the master's bell and had to stop torturing himself. Returning to Copenhagen, he reinvented himself as Victor Borge, who had heard Ignaz Friedman in Berlin and found him to be the very model of a musician and person.
But as Frederic Lamond was an important Beethoven performer we can learn a great deal from his playing in what not to do,  as many mannerisms may have been aped from the luminaries he heard such as von Bülow and others. Surely this Beethoven expert, teacher, editor, recording artist and international celebrity knew well Schiller's text in Beethoven's Ode to Joy, mentioning that all men should be brothers? It may not have been on his front burner whilst writing the following to his British manager Ibbs & Tillett:
If you could arrange some engagcments, say 4 or 5, to fit in with the Historical Series in London I would now book dates definitely at the Wigmore Hall. The engagements would have to be booked on the understanding that I do not play for less than 40 guineas. The difficulty is that my business arrangements would have to be handled 

individually

, and my name not sent out with a crowd of Jew pianists, Jew violinists and Jcw singers, but lbbs & Tillett have always steadily refused to accept my suggestions and here I am, dissatisfied with my work in England, which is not worthy of my reputation as an artist. Are you waiting for me to become circumcised, because it is rather late in the day and I am afraid I cannot oblige you? I don't wish ln anyway to irritate you, but you must try and see 

my

 point of view. That old conservatoire ideas of 

waiting

 for engagements have gone to the wall, and at the present day you have got to hunt for them, otherwise there is nothing doing. What about the Mosel tour or the successors of Mosel? What about the Beecham Concerts in London? I read about a series of subscription pianoforte recitals in GIasgow, which you seem to be unaware' of. I am going to South America in the course of the next few weeks, and would like to have your

answer before setting out on my journey. (22 April 1935)
A few years later, Germany became a bit uncomfortable for Lamond and he returned to England, a sacred cow at pasture.
Allan Evans © 2013