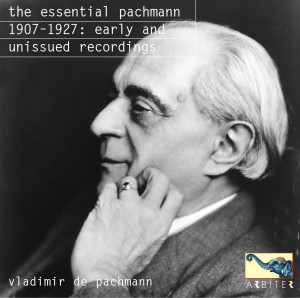 Our two releases cover the most significant recordings left by pianist Vladimir de Pachmann.
see our entry: https://arbiterrecords.org/music-resource-center/vladimir-de-pachmann/
Thanks to the kindness of the late pianist and pedagogue Robert Dumm, we are able to offer his 1979 Paris interview with Lionel (or Leonide) de Pachmann.
In August of 1979 I met with him for several hours. At first he struggled with halting English, but a few minutes into our talking something snapped inside him and out came the patter of a Londoner. He pointed out about how his father detested pianists who kept their hands apart while playing Chopin's first Etude (Op. 10, No. 1 in C), saying how ungainly it was, that it made one look like a monkey. Pachmann helped along the right hand with his left, not merely to look less simian but to bring out one of the several voices usually streamlined in that hand. One can hear his performance on our second volume: https://arbiterrecords.org/catalog/the-essential-pachmann/
Leonide spoke of his mother, the Australian pianist Maggie Oakey and played a yellow label HMV test pressing of hers on his phonograph. She performed a well focused and deft dance movement of Joachim Raff's (possibly a Rigaudon). He treasured this unique document: the disc is now lost or in unknown hands.
A young Pierre Boulez took piano lessons from Pachmann, whose intense dislike of atonal and serial music made their time anything but comfortable. I had with a piano piece I was working on and he asked to see it and moved it over to his Steinway, by a window looking onto the Boulevard Saint Germain. "You should orchestrate this!" he advised, the same suggestion Robert Ashley made a few months later. "I eat at the same restaurant and the food stays the same  but their prices keep going up."
It wasn't often one could  chat with a such friendly host  whose family connected to colleagues of Chopin, Liszt himself, and survived a crucial moment in French history. He spoke of a breakfast when his mother warned her second husband, the lawyer Labori, not to go to court that day (to defend Dreyfuss). He ignored her and was shot on the way to court. At our parting, Leonide casually mentioned his having had a double life – under an assumed name as a Parisian jazz musician. Leonide was 92 years old then, and much of what you'll hear in his French was repeated to me in his spry English, as he accurately recounted to both of us what had been told to him and his direct experiences.
Leonide de Pachmann chatting with Robert Dumm in Paris, 16 March 1979.
I.
II.
III.