The first church I willingly entered had a faded clash between Byzantine and Baroque as its orange and ochre facade inhabits mysteries behind life-sized gesturing enigmatic statues placed on high.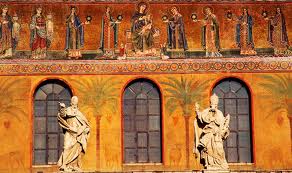 Inside, Roma's Santa Maria in Trastevere buzzed as an ornate Baroque social hive, again made cloying by a painting inside a recess: a pretty saintesse holding a platter containing two expressive eyeballs, lookin' right at you. The bells went berserk before sunset, shimmering and shaking on down body and being in the otherwise poker-faced piazza mood.
Not one goddamn organ of any importance could be found nearby at the Vatican, other than a neglected instrument played on in the 1600s by their organist Frescobaldi, originally from Ferrara where he played harpsichord for the Este family in their Schifanoia palace rooms covered in zodiacal frescoes:
His sense of proportion and architecture ricochets out from his skull to fill vaults, apses, domes, essays of density and texture, expanding and restlessly contracting lines into solid forms like the Baroque architecture housing his mind's wanderings:
Frescobaldi, played here by master Luigi Ferdinando Tagliavini, unfolds sonic arabesques that arouse the stillness of space they invade: He named these works Toccatas, from toccare, to touch, as he touches on terror here in no. IV, a kind reappearing in its meteoric path later in time inside a dream between Pink Floyd's organist and guitarist in a lost work cut out of Zabriskie Point
Oenone excerpt (an early leak from Zabriskie Point sessions)
and a transformed stillness of space and matter arrive as sunset looms near Antonioni's portrayal of this early occupying rite by a Goddess of Chaos and Transformation:
We seem to have somehow strayed away from church. German moral and cultural sobriety and propriety is prevalent in this well known Bach Toccata's opening, its Gothic edge emerging from a 1929 pre-Hitler recording from Hamburg's cathedral organist Alfred Sittard:
Bach Toccata excerpt by Alfred Sittard, Hamburg 1929
Sittard's propriety adds traditional drama to the space, exciting its insides. Meanwhile, in Paris, a master organist lacking sight, André Marchal,
had a grander sense of color and drama than anyone of his city. Francis Poulenc the composer raved about how Marchal "has the best ear in Paris." Marchal summons this passage and fearlessly exorcises space and sucks your body in as well:
André Marchal plays opening of Bach's Toccata in D minor
A heightened expressivity lurked early on in Paris, in the fine line between institutional worship and unbounded leaps into mystic experience, hovering in their literature, visual art, the demonic erotic piety of Huysmans, churches becoming base stations to parallel universes that manifested from inner ears and fingers of organists.
Charles Tournemire (1870-1938), of violent religiosity and otherworldliness, created a cyclical voluminous soundworld called L'Orgue Mystique. Put everything on hold and listen to him treading quasi-Indian ragas robed in Medieval chant:
Tournemire Andantino played by its creator.
Only one copy of this disc survives and I was the happy boy to restore and publish all his extant performances: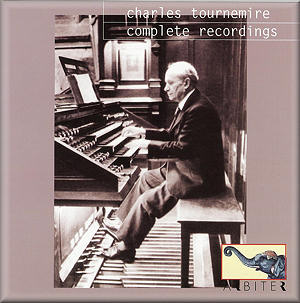 Tournemire had a volatile character, snapping at a student who promptly left him for good. Olivier Messiaen claimed he learned nothing from this thorny mystical crab, but his music tells us otherwise.
For the curious: more to read on Marchal:
http://www.arbiterrecords.com/notes/111notes.html
Tournemire revealed:
http://www.arbiterrecords.com/notes/156notes.html
and behind these deeds is our Sonic Archaeology: