Knowing Teresa Sterne during her last years was an astonishing experience. Her actions as the head of Nonesuch Records created their Explorer series, one that took world music out of the International entertainment bin and captured authenticity.
Her example led us to seek the earliest recordings from Bali. One scheduled for repatriation in a new terrestrial form is by Gamelan of the Love God in Banjar Titih, from 1928:
Tracey worked with many avant garde composers, such as John Cage, Xenakis, developed projects with William Bolcolm, launched the recordings of Jan De Gaetani, Gilbert Kalish, and Paul Jacobs.
One box on her shelf contained concert performances by Jacobs, including this Stravinsky Etude, played at Brooklyn College where Jacobs taught:
Her archive had more by Jacobs and we eventually brought it to light: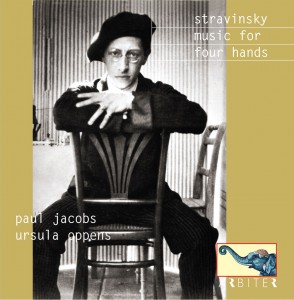 She was a pioneer and her level of culture nourished us.
She brought to life over five hundred recordings as a producer and "coordinator" with the creators and players, all offered on an affordable label that went far beyond the scope of so-called majors. In her home, she prized a set of Mark Twain gathered as a child, an economic edition of an author who became a lifelong companion. Knowing of my ignorance, she repeatedly urged me to read The Mysterious Stranger and once opening its first page, I understood the urgency. After her tragic passing in 2000, I realized how having such significant literature, especially by a writer who shaped her vision, was a model for her actions in capturing high culture and making it as accessible as possible.
An indefatigable talker, to put it mildly, she considered writing memoirs but didn't have time to grapple with a vast archive. She once mentioned how aunt Rose, with whom she and her mother lived with in a Borough Park, Brooklyn house in what she described as "genteel poverty", once took a writing course. Tracey handed me one of her aunt Rose's essays, capturing an accent and world view that has passed, for better and worse, into a regimented transformation replacing layered bubbling neighborhoods with dormitories of cosmopolitan consumers lacking in character.
From the papers of Rose Sterne
A squat fat man in work clothes ambles toward the steam table, sawing his way through the labyrinth of winter noon-day patrons in a cafeteria in the heart of the garment district.
The tall, wiry, hard-eyed blonde behind the counter, the glow on her cheeks heightened by the waves of heat from steaming meats and soups, balancing a plate in the palm of her left hand, the long aluminum ladle in her right alerted to plunge into a mess of peas, or scoop up a blob of potato at the go sign, rasps:
"Wodd'll yu have?"

"Gimme some o' dat der hamboiger."

"That ain' hamburger, that's chopped sirloin."

"Gib it ter me, woddever it is,"
Dipping into the shallow pan of sirloin patties, she slides one on to the plate, and . . .
"Wot kinda vegedables?

"Some o' dat der macroni."

"That's spigeddy."

"Make it spigeddy."
She sinks the ladle into the slithery spaghetti, and draining off excess hot tomato sauce, glides it close to the sirloin, where it spreads out into a little pool of sauce. Eyeing her customer, pertly:
"And?"

"An I'll have o' dat der spinich," inhaling the mixed aroma of spice and juice.

"Spinich! That's kale," glaring at him.

"O.K."
Letting the ladle fall with precision she chops off a bit of green steaming kale and stacks it on the plate.
"That's all yu git with sirloin – two vegedables."
Cocking his round head to one side, and narrowing his small vacant eyes:
"Listen sister, who's payin' for all dis here chow?"

"I'm only sayin, mister," receding, "you kin read the sign – 'Sirloin with two vegedables' – seventy cents.'"

"So vot! You'se keeps dishin' till I tells yer ter stop, see!" Raising his chin like a turtle out of a fat doughy neck:

"An I'll have some o' dat der sparagas."

"That ain sparagas, that's broccoli," tapping the floor with her heel.

"Awright," snorting.
She scrapes up a soft lump of limp mossy broccoli, and nestles it next to the kale.
Stroking his fat pale cheek:
"Er, how's about' some o' dat mashed sweet perdaders?"

"Listen, brother, that there is squash."

"Squash?" – drooling.

"Yes, squash."

"Make it squash."
The loaded plate now dripping with juice and bits of overlapping vegetables, she drops the ladle into a vessel of hot water. Drawing a deep breath, she plops the plate upon his uplifted tray, and. . .
"Who's nex'?"

"Hey, wade a minit, wotta yer rush. Gimme some o' dat vegeble soup."

"Chicken gumbo, get me? Chicken gumbo!"
She ladles out a portion of soup into a small white bowl and tucks a tiny cellophane pack of crackers between the bowl and the plate beneath it, and, inaudibly:
"I hope yu bust!"
Guiding his short arms to balance the tray out over his fat belly, he cuts through the long cue of hungry restless patrons, waddling out toward the tables and fades into the crowd.
April 4 1951